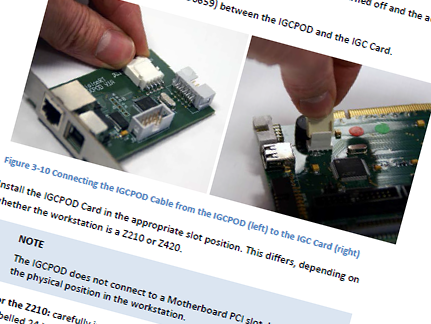 Do you need digital images to support and enhance your documents or your website? I can digitally re-master your existing images to restore them to their former glory or create new images to enliven your documentation.
Capturing Products and Procedures
Digital images can help capture your product assembly instructions, installation, servicing, troubleshooting, etc. A picture really can say more than a thousand words when it comes to explaining a procedure. They can also enhance your brochures, technical publications and other documentation by adding eye-catching and informative elements.
Retouching Existing Images
These days, everyone is an amateur photographer, but do you need someone to give your photos a professional makeover: to digitally change the background, adjust the lighting, re-crop the image for a new composition to give a fresh look to your favourite images.
How to Retouch Your Images
1. Crop and re-frame. This will enable you to to improve the composition of an existing image
2. Replace the background. Change the environment or context of the image by substituting a different background.
3. Rotate the image. Make your image more dynamic by rotating it to change boring vertical/horizontal lines into diagonals.
4. Adjust tonal balance. Improve the clarity, contrast and brightness of your image.
5. Adjust colour balance. Correct for any colour cast in your original image.
6. Remove red-eye, scratches, spots and blemishes. Renew your image and remove aging by cleaning it up.
7. Remove unwanted objects. Use the cloning tool to remove any unwanted objects in the image.
8. Blur, blend, sharpen. Focus the viewers attention by simulating depth-of-field and sharpening up the objects in the foreground
9. Prepare print-ready images. Prepare high-resolution images for clarity and printing (at 300 dpi, or more).
10. Prepare web-ready images. Prepare low-resolution images for small file size and communicability (at 72 dpi).
File Formats and Resolutions
Understanding image raster and vector formats is essential for creating documents that are fit-for-purpose. Clearly, it is no good including low resolution images in a document if you are intending to have it printed since they will look terrible, and it is wasteful and annoying having high resolution images in a document that will be viewed on the web since it will take longer than it should to download.
I create images in various formats, including:
Contacting AAM Design
If your company or organisation needs professional document design, you can hire me on a freelance or contract basis. I'll be happy to give you a fixed-price quote or an hourly/daily rate.