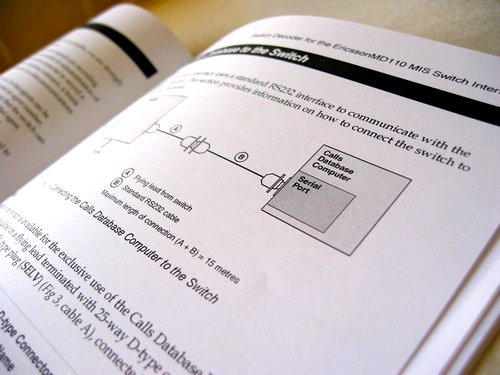 How will your company survive in increasingly competitive markets? Providing superior customer support will help you stand out from your competitors, retain your existing customers and attract new ones. Providing exceptional technical publications is an essential part of this.
Writing Documents for Engineering and Technology
I have an engineering degree and over 20-years' experience of producing publications for all levels of user in various engineering disciplines, including:
Air Conditioning, Environmental Control, Energy Recovery and Ventilation
Audio and Data Recording
Broadcasting
Communications
Computer-aided Testing
Contact Lens Manufacture
Fibre Optic Communications and Temperature Measurement
Industrial Processes and Manufacturing
Instrumentation
Integrated Circuit Design
Oil and Gas
Power Supply and Distribution
Satellite Communications
Mobile Phone Testing
Radiotherapy
Writing for Different Levels of User
As a Technical Author I have over 20 year's experience of producing technical, training and corporate documentation for all levels of commercial and military user:
level 0 - non-technical/general public operation, installation, service and repair
level I - operator/user operation, installation, service and repair
level II - in-the-field installation, service and repair
level III - depot servicing and repair
level IV - factory repair
Why You Need Professional Documentation
1. Delight your customers. By providing comprehensive and effective documentation, you will make your products easier to understand ensure your customers use them to their full potential.
2. Reduce calls to customer support. By providing adequate operational and technical detail, you will reduce the number of calls to your customer support hotline.
3. Minimise product downtime. By providing effective troubleshooting and repair instructions, your customers will be able to rectify faults and get your products back online more quickly.
4. Encourage repeat business. By improving customer confidence in your products and product support, you will improve your company's reputation and establish brand loyalty.
5. Generate new business. By supplying a technical publication to a prospective customer as a benchmark of achievement, you will add credibility to your sales and marketing literature.
6. Train staff. By providing structured product documentation, you will be able to train staff and new recruits in your company as well as your customers.
7. Protect your customers. By providing essential health and safety information, in conjunction with appropriate product labels, your company will fulfil its obligation to provide adequate protection for the end-user.
8. Protect your products. By providing relevant equipment care, installation, handling, operation, storage, and maintenance information, the product will be properly used and maintained by the customer.
9. Protect your company. By recording the functions, features and specifications of the product, you will provide product liability and patent protection for your company in the event of a dispute.
10. Increase company productivity. By distributing copies of the product manual internally, or posting it on the company intranet, you will reduce interruptions to your product developers.
Supporting Your Product Lifecycle
I have proven success in designing and managing documents through the product lifecycle and delivering products on-time and to-budget, including:
assessing documentation requirements
scoping documentation
structuring documentation
planning documentation projects
budgeting projects
writing draft documentation
organising and preparing illustrations
reviewing and editing drafts
achieving project milestones and delivery dates
working to budget
coordinating with printing lead times and product development
issue control and document management
coordinating updates with product versioning
issue and control of updates, appendices, amendments and revisions
document withdrawal and replacement at end of product life
Online Help for Software Applications
In additions to writing comprehensive software user guides, I also have experience of designing help systems to support users of software applications. Such help systems are typically not just re-formatted versions of the user guide, but they can draw extensively from this content, if it exists.
Contacting AAM Design
If your company or organisation needs professional document design, you can hire me on a freelance or contract basis. I'll be happy to give you a fixed-price quote or an hourly/daily rate.