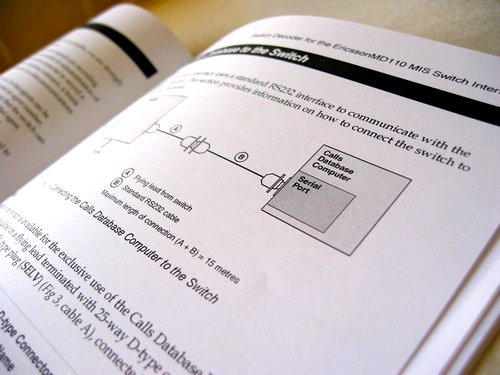 How will your company survive in increasingly competitive markets? Providing superior customer support will help you stand out from your competitors, retain your existing customers and attract new ones. Providing exceptional technical publications is an essential part of this.
Writing Documents for Engineering and Technology
I have an engineering degree and over 20-years' experience of producing publications for all levels of user in various engineering disciplines, including:
Air Conditioning, Environmental Control, Energy Recovery and Ventilation
Audio and Data Recording
Broadcasting
Communications
Computer-aided Testing
Contact Lens Manufacture
Fibre Optic Communications and Temperature Measurement
Industrial Processes and Manufacturing
Instrumentation
Integrated Circuit Design
Oil and Gas
Power Supply and Distribution
Satellite Communications
Mobile Phone Testing
Radiotherapy
Why You Need Professional Documentation
There are lots of reasons to outsource your documentation, not least of which is having a dedicated person to focus on making sure your document fulfil its purpose. If written hastily by an engineer or manager, not only is their productivity reduced (as they are taken away from their well-paid roles) but they are probably overlooking issues of quality that your customers will assume are reflected in the product itself ("sloppy manual = sloppy software?").
1. DELIGHT YOUR CUSTOMERS.
By providing comprehensive and effective documentation, you will make your products easier to understand ensure your customers use them to their full potential.
2. REDUCE CALLS TO CUSTOMER SUPPORT.
By providing adequate operational and technical detail, you will reduce the number of calls to your customer support hotline.
3. MINIMISE PRODUCT DOWNTIME.
By providing effective troubleshooting and repair instructions, your customers will be able to rectify faults and get your products back online more quickly.
4. ENCOURAGE REPEAT BUSINESS.
By improving customer confidence in your products and product support, you will improve your company's reputation and establish brand loyalty.
5. GENERATE NEW BUSINESS.
By supplying a technical publication to a prospective customer as a benchmark of achievement, you will add credibility to your sales and marketing literature.
6. TRAIN YOUR STAFF.
By providing structured product documentation, you will be able to train staff and new recruits in your company as well as your customers.
7. PROTECT YOUR CUSTOMERS.
By providing essential health and safety information, in conjunction with appropriate product labels, your company will fulfil its obligation to provide adequate protection for the end-user.
8. PROTECT YOUR PRODUCTS.
By providing relevant equipment care, installation, handling, operation, storage, and maintenance information, the product will be properly used and maintained by the customer.
9. PROTECT YOUR COMPANY.
By recording the functions, features and specifications of the product, you will provide product liability and patent protection for your company in the event of a dispute.
10. INCREASE COMPANY PRODUCTIVITY.
By distributing copies of the product manual internally, or posting it on the company intranet, you will reduce interruptions to your product developers.
Writing for Different Levels of User
As a Technical Author I have over 20 year's experience of producing technical, training and corporate documentation for all levels of commercial and military user:
level 0 - non-technical/general public operation, installation, service and repair
level I - operator/user operation, installation, service and repair
level II - in-the-field installation, service and repair
level III - depot servicing and repair
level IV - factory repair
How to Write an Effective Datasheet
Datasheets DELIVER FACTS FAST! Your readers will first SCAN the datasheet to check its relevance. If they deem it useful or interesting, they will then SKIM the content to pick up the main points. If they want to know more, they will finally READ the detail. So it's vitally important to write good copy that can be absorbed in this way.
1. INCORPORATE ESSENTIAL INFORMATION FOR YOUR TARGET AUDIENCE.
Most datasheets are short - usually a one- or two-sided page. Identify the most important points your audience will want to know about (your product team will want to include every feature in the latest release.). A typical structure is:
Definition/Key Features - What does the product do?
Benefits - How does your product help the buyer solve their problems?
Description - How does the product work?
Advantages - What makes the product unique?
Specification - What are the key details?
Bear in mind who your audience is. If the datasheet is for business managers, you probably don't need to elaborate about how the product works technically. If it's for network engineers, on the other hand, then that information may be critical.
2. CLEARLY IDENTIFY YOUR PRODUCT ON THE FIRST PAGE.
Include a brief product definition right at the top of the first page including how it solves your audience's high-level problem. It orients your reader to your product and provides context for the rest of the datasheet.
3. USE HEADINGS THAT SUMMARISE YOUR MAIN POINTS.
Readers will see these first so make them succinct and encapsulate your main content points. A good test is to read only the headings of your draft and see if they summarise your main points. Will your audience be compelled to read the content?
4. CONSIDER WRITING HEADINGS AS QUESTIONS.
Frequently asked questions (FAQs) are popular with technology buyers because they are quick to scan. You can utilise this principle by writing your headings in the form of questions and answering them in the paragraph immediately following. For example:
How Does Product X Compare to Other Solutions?
How Does Product X Work?
Why is Product X the Best Choice for Managing My Data?
5. USE BULLET POINTS AND BOLD KEY PHRASES.
Bullet points break up your text so it's easy to read and quick to scan. Keep the text short and start each bullet point phrase with an action-oriented verb. Embolden the key phrases of your main benefits to help get them noticed. For example:
Gain visibility about where critical information is located.
Eliminate passwords once and for all.
Protect your data in use and in motion.
6. HIGHLIGHT THE PRODUCT BENEFITS.
Give readers reasons why they should continue reading by including a brief benefits list on the first page. A bulleted list in a dedicated left- or right-hand column is easy to scan. Keep the text short but compelling.
7. INCLUDE A POSITIVE QUOTE.
Validation of your solution by an analyst, customer, or third-party is always good. Rather than inserting the quote in the datasheet's main body where it can get lost, include it in a box in the margin, where it will be seen.
8. WRITE IN SECOND-PERSON TO APPEAL PERSONALLY TO YOUR AUDIENCE.
Many technology companies write their datasheets in third person ("he", "she"), which sounds formal and rather stilted. Even worse is calling them "the user". Your datasheet will be more engaging and personal if it's written in second person ("you"). Make it easier for your readers to identify with the problems and solutions you are presenting.
9. INCLUDE USE CASES.
I often work with technology companies that are great at explaining how their solution does something, but they forget to also add when or why you would use it. Giving your solution context, by including a "use case", is critical. You don't need to go into great detail (better to write a separate Case Study) but you do need to give examples of where your product adds value.
10. KEEP THE CONVERSATION GOING BY INCLUDING A CALL-TO-ACTION.
The call-to-action (CTA) directs readers to the next step you want them to take. Say more than: "For more information, visit our website." (include basic contact information elsewhere in the datasheet). Analyse what your potential customer will logically want to know next. Perhaps include a link to a technical white paper or a link to a customer testimonial video. Keep the conversation going by highlighting other helpful resources, building the strength of your offering and clinching that sale.
Supporting Your Product Lifecycle
I have proven success in designing and managing documents through the product lifecycle and delivering products on-time and to-budget, including:
assessing documentation requirements
scoping documentation
structuring documentation
planning documentation projects
budgeting projects
writing draft documentation
organising and preparing illustrations
reviewing and editing drafts
achieving project milestones and delivery dates
working to budget
coordinating with printing lead times and product development
issue control and document management
coordinating updates with product versioning
issue and control of updates, appendices, amendments and revisions
document withdrawal and replacement at end of product life
Online Help for Software Applications
In addition to writing comprehensive software user guides, I also design help systems to support users of software applications. Such help systems are typically not just re-formatted versions of the user guide, but they can draw extensively from this content, if it exists.
Contacting AAM Design
If your company or organisation needs professional document design, you can hire me on a freelance or contract basis. I'll be happy to give you a fixed-price quote or an hourly/daily rate.